Welcome to McKinley Creekside Cabins and Café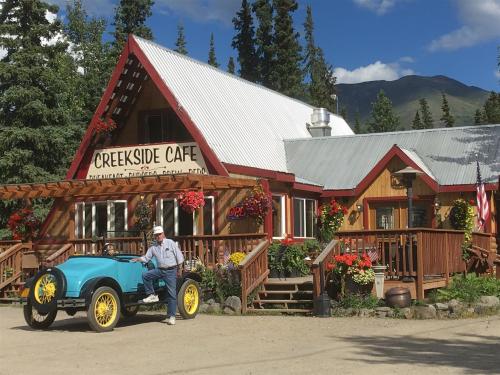 Welcome to Denali!




"Where Guests Become Friends"
At McKinley Creekside Cabins we offer AAA approved, clean, comfortable rooms and cabins at reasonable prices. We also have the Carlo Property which has three house rentals; The Carlo House, The Carlo Guest Cabin and The Carlo Loft, which have the added amenities and space one enjoys with home rentals.
All our standard room and cabin style accommodations have private baths and coffee makers, some available with refrigerators, microwaves and toasters. Our Family Cabins have three beds (2 Queen + 1 Double) and can sleep up to 6 people.
New Superior Lodge Rooms for 2018! They will be spacious 448 sq/ft rooms with an 80 sq/ft covered deck to enjoy the beautiful Alaskan scenery. You will enjoy two queen beds, full bath, coffee maker, microwave, small refrigerator and *TV, and complimentary Wi-Fi.
Creekside-Lodging & Café is ideally located just minutes from the park and is a hikers paradise with numerous trails in the back country right outside our front door! For those seeking beauty with the promise of adventure in the nation's last frontier, McKinley Creekside Cabins and the Creekside Café in Denali is just the ticket for enjoyment and location combined with affordability.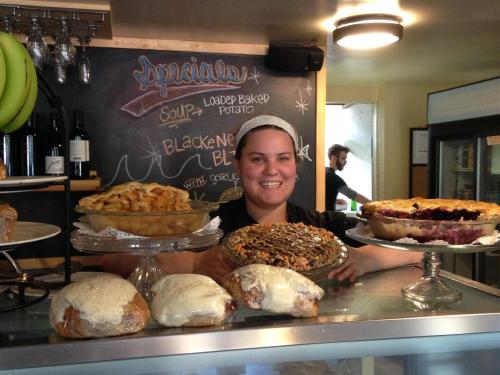 The Creekside Café is open 5am-10pm daily* serving breakfast, lunch, and dinner, along with a selection of wine and Alaskan Crafted beers and no Alaskan café is complete without a gourmet espresso bar.
We are known for our Mt. Denali Cinnamon rolls and the amazingly delicious Wilcox Family Strawberry-Rhubarb Coffee Cake!
Of course we bake our bread and rolls daily along with a selection of our favorite dessert recipes which include pies, pies and more pies, cookies, turnovers & more.
You will enjoy favorites like our House Smoked Turkey Pot Pie or Grandma Emmi's Meatloaf with whipped potatoes and mushroom gravy. Halibut is our specialty. Try the Pan Seared Halibut with Chef DJ's lemon-caper beurre blanc, crispy risotto cake and grilled broccolini, our grilled halibut tacos with fresh pico de gallo, or perhaps the ol' standby: Halibut Fish & Chips with our House caper-tartar sauce-YUM! End your meal or start your day with any one of our signiture baked goods you won't be disappointed...and if you are, let me know- traceyfsmith@yahoo.com.
In addition to the "Creekside Café" we offer:
A tour and information desk
Creekside Covered pavillion with BBQ and picnic facilities
A fire pit alongside the creek for evening get-togethers.
Hiking trails right outside your door.
Friendly Alaskan service and hospitality.
Just 15 minutes south of Denali National Park - a prized national park getaway and wildlife preserve.
The Park is home to the nation's highest peak, Denali (meaning the
High One
or
Great One
in Athabaskan) towering at 20,310 ft. home to gizzlys, moose, caribou, Dall sheep, wolves, fox and more.
There are many choices for touring Denali from the informal and inexpensive shuttle bus to full-day narrated excursions on a motorcoach. All are good and we can help you decide which is the best option for you.
We strive to provide information and insight so our guests get the most out of their time in Denali. Our desire to serve our guests is rooted in the fact that we ourselves and each of our carefully selected and trained crew members feel genuinely blessed to be living and working here, and the positive atmosphere of appreciation and thoughtfulness is as much a vein running through our daily operations as the gold running through the mines that drew so many to this still-astounding location: Denali National Park and Preserve.
McKinley Creekside Cabins & Café is not just a business to us; it is a cherished personal enterprise that remains one of the few privately owned and operated lodges and restaurants in Denali National Park, Alaska. We take great pride and care in the product and service we offer and hope you enjoy it.

Whether it's an evening campfire by the creek, or a morning cappuccino at the Café to discuss the day's events, we provide a relaxed and informal atmosphere with professional service. Come and enjoy Denali at "Creekside" where guests leave as friends.

Make yourself at home on our website, and you'll get an idea of the flavor of how we'd make you feel at home in Denali, truly the last frontier.
Thank you for your time and interest in McKinley Creekside Cabins & Café, we hope to be a part of your Alaskan Denali adventure.

If you have any questions not answered here, please contact us at
1-907-683-2277/1-888-533-6254 email: info@mckinleycabins.com