Denali Backcountry Safari
You and a small group of fellow adventurers will ride aboard a rugged 6-wheel drive army truck on a spectacular off-road journey into Denali's backcountry. Your adventure begins near the entrance to Denali National Park where you meet your driver-guide and head deep into the Alaskan bush.
Your destination is the Stampede Trail. Not shown on most maps, this forgotten road was carved out of the wilderness by the early miners of the Kantishna region, seeking gold and antimony. The Stampede Trail gained notoriety in 1996 from the best-selling novel "Into The Wild" by Jon Krakauer, and subsequently, from the critically acclaimed motion picture directed by Sean Penn. This is the very same trail that Christopher McCandless, subject of the book and movie, took to enter the wilds of Alaska.
The first few miles of the Stampede Road are paved, but beyond this point, your guide will take you along very primitive trail with plenty of bumps, mud, and off-road 4×4 adventure. Your guide will explain the area's rich history, point out interesting sights along the way, and allow ample time to view and explore the open tundra.
Don't forget your camera! On a clear day, you may have the opportunity to see Denali (formerly Mt. McKinley) from a viewpoint along the trail. Also, be prepared for the possibility of wildlife sightings–this is prime habitat for moose, caribou, bears, and foxes, as well as a multitude of smaller critters. In the backcountry, you'll enjoy a hearty Alaskan snack before winding your way back to civilization with exciting stories and photos to share.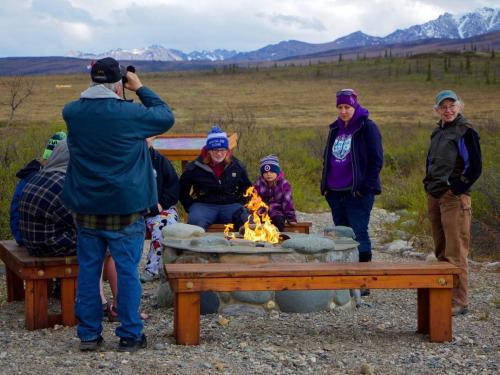 Tour Start Times: 7 am, 1 pm and 6 pm
Tour Duration:
4 to 4.5 hours (including transport time)
Prices:
Adult: $99 pp;
Child: $89 pp
Fly to the bus from Into the Wild!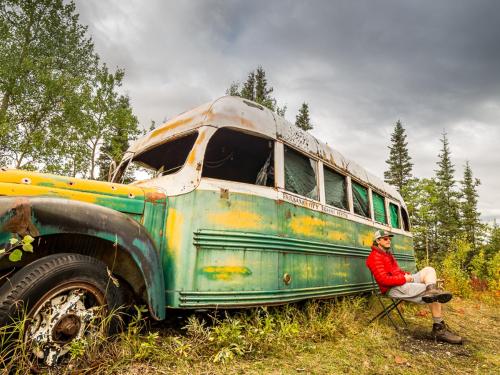 Fly over the Denali nature under the guidance of our professional pilots/Alaska experts. From there, you will land just off the Stampede Trail, a mining road blazed in the 1930s only to be abandoned in 1963 after deeming the terrain impassable due to permafrost and seasonal floods. Left behind on this renounced trail, though, is Fairbanks Bus 142: a makeshift shelter retrofitted with bunks, and a wood stove for those construction workers hired to clear the path. This shelter that later became a home to Chris McCandless from Jon Krauker's Into the Wild.
Tour includes:
40 to 45 minutes of helicopter time
25 to 30 minutes exploring the bus and its surroundings
Pricing: $536 pp
Tour Departure Time: 11:40 am
Tour Duration: 1.5-2 hours (including transport time)