Denali Backcountry Adventure-The best all day park tour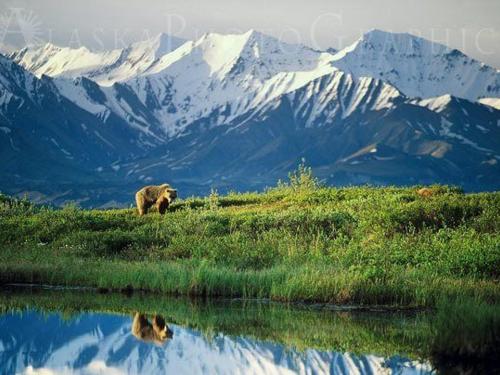 Hop on board a private motor coach bus and experience 92 miles of breathtaking Alaskan beauty and adventure. This fully narrated park tour travels the entire length of the Park road with knowledgeable Guide/Drivers which share the biology, geology, and history of the region with you. Have your cameras ready to capture majestic Denali- Athabascan for "The Great One" or "The High One" and other pristine landscapes. View bears, caribou, fox, moose, wolves, sheep and birds in their natural habitat.
Spend a couple of hours and enjoy lunch at an exclusive resort in Kantishna, just past Wonder Lake, the jewel of Denali. There you will discover a piece of Alaska's gold rush history, and the warm hospitality of the staff as you enjoy a tasty soup and sandwich served in the dining area. After lunch you'll be invited to try your luck at panning for gold in Moose Creek, or if you prefer, you can stretch your legs on the nature hike or just relax on the deck of the lodge and immerse yourself in the scenery.
Option #1- Round trip motor coach $214 pp-13 hrs. *This is a great tour for those that want to spend a full day in the park, see Wonder Lake and Kantishna while learning all the natural history of the park.
Option #2-Motor in/Fly out-8 hrs. $214 add a 55 minute flight seeing tour for only $335pp (includes all taxes), total cost $549. Narrated motor coach tour departs at 6:00am to Kantishna with a 55 min. flight seeing tour back to the park entrance. *This is a great tour for those that want to see the entire park by land and air while learning all the natural history of the park. **If you are interested in flight seeing Denali this is a great option at an affordable rate. Cessna 206 aircraft. Each aircraft has 6 seats, 1 pilot and 5 passengers.
In light of Corona Virus all tours can be cancelled up to 72 hours prior to departure at no penalty. We highly encourage you to still book your space on tours early as space is limited.
Cancellation Policy: 61+ days refund less $25pp cancellation fee, 31-60 days 50% of total, within 30 days forfeit full amount. Space is limited so book early.