Casual Dining at its Finest!
Creekside Cafe Hours:
Breakfast: 7 to 11 AM
Lunch: 11 to 2 PM / Brunch 11-2 (Saturday and Sunday)
Dinner: 5 to 9 / 5 -10 (Friday and Saturday Only)
We will be serving espresso, baked good and lighter fare from 2 to 5 PM daily.
Make a Reservation Online!
Rated As One of the Best Restaurants In Alaska!
"If you really want to make a friend, go to someone's house and eat with him...the people who give you their food give you their heart."
— Cesar Chavez
Thank you for coming to our house!
McKinley Creekside Cabins hosts the popular "Creekside Café". Casual dining, quality service and some good home cooking is what you'll get.
We are situated on the banks of beautiful Carlo Creek with breathtaking views of the Alaska Range.
Relax and enjoy the amazing mountain views from our deck while you sip a cappuccino planning your day or drink a cold Alaskan craft beer while you reflect on the day's explorations.
Fresh | Quality | Local | Made With Love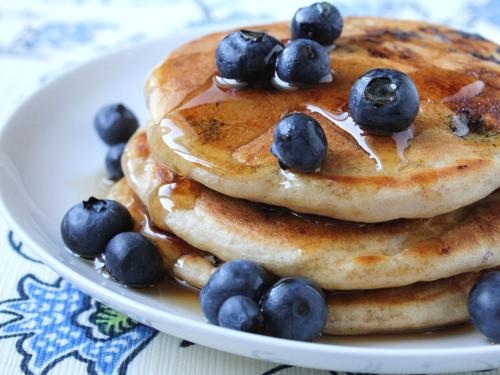 We work hard to offer a menu that has a mix of Alaskan seafood along with some traditional favorites. Our food is locally sourced when possible and prepared with love using fresh quality ingredients. You can taste the difference, from our fresh homemade breads, house smoked turkey to our AMAZING bake case filled with delights!
Breakfast * Lunch * Dinner

Open daily from 7am-9pm May-September (mid May-June 1 open at 6am)

A gourmet espresso bar and to-go counter

Our certified Sommelier, Nikaela French, has created a fine selection of wine and Alaskan crafted beers for your enjoyment.

We can cater small groups and now have a beautiful covered pavilion along the creek for special events.

Park Tour Hearty Lunches-To Go ORDER HERE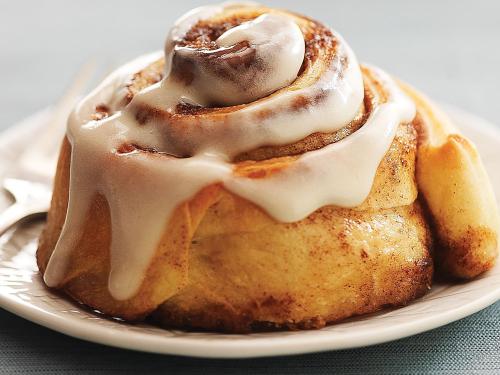 Home of the Mt. Denali cinnamon rolls!
Try a slice of our Strawberry-Rhubarb Coffee Cake...GUARANTEED to please!
We make our bread and sandwich rolls daily for your enjoyment - FRESH homemade bread-um-um good!
We smoke our turkey, salmon, and ribs.

Weekly Specials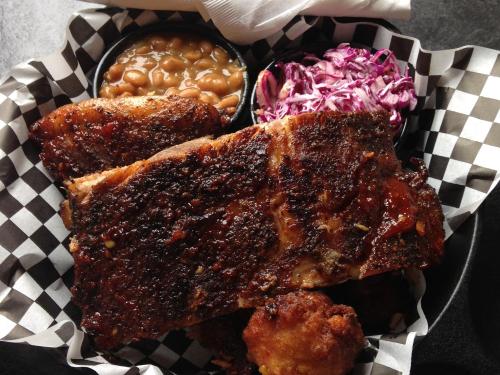 Saturday and Sunday Weekend Brunch-
Served from 11am-2pm
Wednesday Night BBQ-House-smoked ribs with all the fixin's!
Holly's Friday Night Prime Rib-
Herb and rock salt encrusted and slow roasted to juicy perfection-WOW!
Come on in on any other night to try one of our nightly fish specials!
Breakfast Menu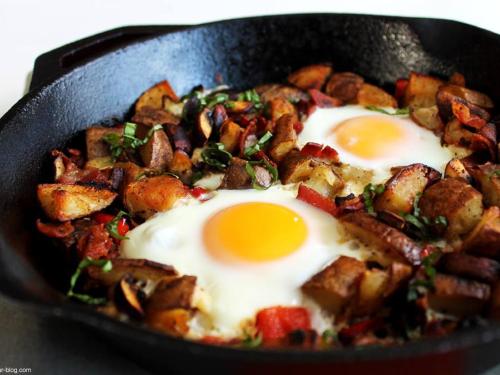 BREAKFAST- Served 7am-11am (Weekend brunch till 2pm)
Download our Breakfast Menu here.

Download our Brunch Menu here.
Thank you or choosing to dine with us. We strive to bring you the freshest ingredients that Alaska has to offer, including Alaskan seafood and meats; produce; and even herbs and greens from our onsite greenhouse, just a few steps from the kitchen back door. It is our goal to exceed your expectations with every plate, every time, all while providing excellent service.
MEATLOAF & EGGS
Homemade meatloaf, two eggs, fried potatoes, homemade toast or biscuit, sausage gravy
TWO EGG BREAKFAST
Fried potatoes, homemade toast or biscuit, ham/bacon, or reindeer sausage
CREEKSIDE SKILLETS
Two eggs, three toppings, fried potatoes with homemade toast or biscuit. Toppings: cheddar cheese, extra egg, zucchini, red peppers, mushrooms, onion, pico de gallo, ham, bacon, reindeer sausage, fresh tomatoes, sour cream, salsa
BREAKFAST BURRITO
The Creekside – Scrambled eggs, potatoes, cheddar cheese, bacon or ham, sausage gravy
Our large homemade biscuits and sausage gravy / with two eggs
BUCKEYE OATMEAL V/GF
Two toppings & toast or biscuit
Toppings: raisins, craisins, brown sugar, pecans, chocolate chips, sliced almonds, cashews
Nutty Blue Pancakes - blueberries and pecans
Tiny's Pancake of the Day!
MT DENALI CINNAMON ROLLS (Texas & Alaska Sized)
WILCOX FAMILY STRAWBERRY RHUBARB COFFEE CAKE
HOMEMADE APPLE PIE, ICE CREAM, and COFFEE
Dinner Menu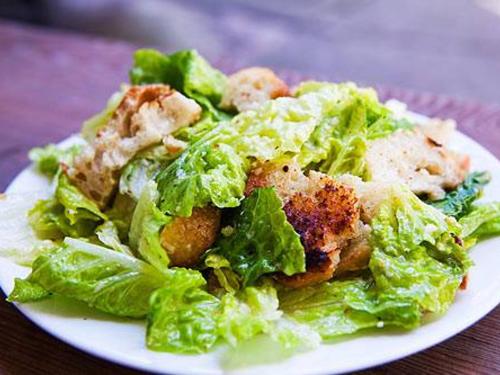 Download our Dinner Menu here.
Small Plates, Soups & Salads
-
Served from 5-9pm
"Cooking is like love: It should be entered into with abandon or not at all." — Harriet van Horne
ALASKA SAMPLER
Halibut, fried onion rings, reindeer sausage, smoked salmon dip, house-made Sourdough
CASHEW CHICKEN LETTUCE WRAPS *V/GF
Grilled Chicken (or tofu), romaine, red peppers, carrots, cabbage mix, peanuts, mint, Thai peanut-sweet chili sauce
HOMEMADE ONION RINGS
Served with Chipotle Aioli
SMOKED SALMON DIP
Served with warm house-made bread
Salads
SUMMER Side | Entrée
Romaine, candied walnuts, craisins, apples, fried goat cheese, poppy seed vinaigrette
CAESAR Side | Entrée
Romaine, house Caesar dressing, shaved parmesan, homemade croutons
HOUSE GREEN Side | Entrée
Romaine, carrots, cucumbers, tomatoes, homemade croutons.
House Dressings: Ranch, Blue Cheese, Thousand Island, Vinaigrettes: Poppy Seed, Cumin Lime, Balsamic
Soup
HOMEMADE DAILY SOUP w/ oyster crackers Cup | Bowl
CREEKSIDE'S AWARD-WINNING CHILI cornbread and honey butter Cup | Bowl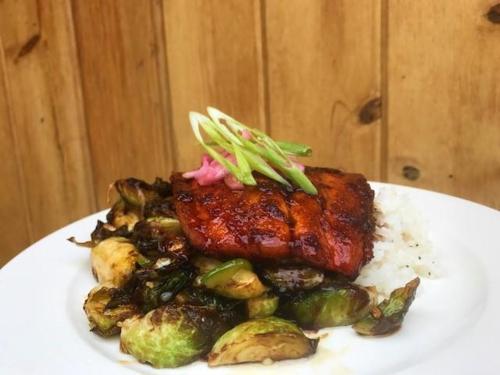 Entreés
We appreciate the honor and opportunity to serve you. The Creekside Café was born from Holly's love and passion for cooking and Tracey delights in baking...voila. Over the past 22 years and three restaurants later we have learned a lot. We have high expectations for ourselves and for each one of our carefully selected cooks and service staff. It is a privilege to live and work in such an amazing place and an honor to serve you, our guests. YOU make this possible and it is our goal to exceed your expectations with every plate, every time, all while providing excellent service.
CHEF'S CHOICE DAILY SPECIAL
Ask your server for today's daily creation.
GRANDMA EMMI'S MEATLOAF
Whipped potatoes, fresh vegetable and mushroom gravy
TURKEY POT PIE
House smoked turkey and veggies in a flaky piecrust, served with a house or Caesar salad
HALIBUT AND CHIPS
A Creekside favorite…with a choice of fries or daily soup (Sub chowder or chili +2)
GRILLED HALIBUT TACOS *V/GF
Two Flour or corn tortillas, cabbage, Pico de Gallo, pickled poblano peppers, lemon crema, avocado
tortilla chips and salsa
HOLLY's THAI STIR FRY *V/GF
Rice noodles, cremini mushrooms, red peppers, asparagus, onion, carrots, zucchini, cabbage, peanuts,
cilantro in a soy-sweet chili-garlic sauce.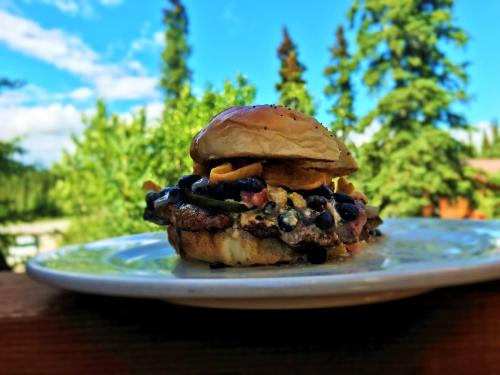 THE FAMOUS MOOSTER BURGER
Hand-pressed beef served on Elaine's signature homemade bun. Comes with lettuce, tomato, red onion, pickles, mayo. Choice of fries or cup of daily soup.
DUKE'S BURGER
House mustard BBQ sauce, bacon, cheddar cheese, house-made onion ring, pickles
HOMEMADE VEGGIE BURGER
Lettuce, tomato, onion, chipotle aioli
REBA's FANCY BURGER
Fried goat cheese, bacon bourbon tomato jam, arugula
BLACK and BLUE BURGER
Blue cheese, onion ring, bacon
FRIED CHICKEN BURGER
American Cheese, pickles, red onion, mayo