Traverse Alaska — Human Powered Adventure!
Private Half-Day Walk
—Up to 4 hours
** CREEKSIDE'S FAVORITE!!
Our half day adventures are designed to give guests with limited time an introduction to the Denali area. This meet and greet activity offers transportation to and from lodging accompanied by a short hike or driving tour of the area. Our local guides will customize the 4-hour trip specifically for you. For our half day adventures, we generally explore the front country of Denali National Park including trails around the visitor center.
Prices:
1 person - $595/total
2 people - $298/each
3 people - $199/each
4 people - $149/each
5 people - $119/each
6 people - $100/each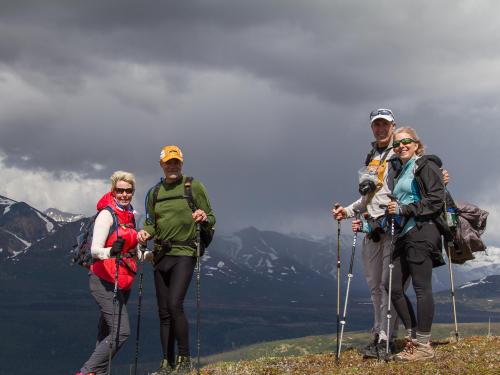 Private Full-Day Hiking Adventure
—Up to 8 hours
Our private day trips are designed to meet the abilities and interests of your group. Whether the priority is to hike, identify the flora and fauna, capture photos, or simply to have a professional, local Alaskan guide take you on a sightseeing adventure—we will customize the day specifically for you. We like to get away from crowds and maintained trails and show visitors our wild Alaska backyard.
Prices:
1 person - $895/total
2 people - $448/each
3 people - $299/each
4 people - $224/each
5 people - $179/each
6 people - $150/each
7-10 people- additional $150/per person
Custom pricing more than 10 people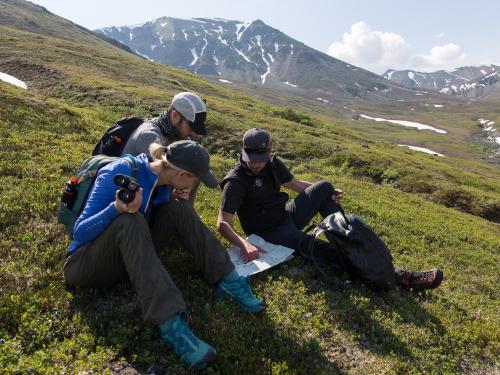 Intro to Backcountry Hiking
—6 hour trip - CREEKSIDE'S FAVORITE!!
Our introduction to Alaska backcountry travel is perfect for visitors who want to explore the state on their own terms. Our guides will provide an overview on wildlife safety, backcountry navigation, river crossings and leave no trace etiquette. You will end the day feeling prepared for off-trail travel and build skills you can use for a lifetime of adventures.
Prices: $199 per person (2-6 people)
Private Denali Hike and Paddle Adventure
— Up to 8 hours
This is a private, full-day adventure which includes hiking and rafting in the Denali area with a professional river guide. Options for Class I and II or up to Class III/IV available. Hiking will be suited to the level of the participants.
This trip is on hold for 2020 due to Covid-19
Prices:
1 person - $1795
2 people - $898/each
3 people - $599/each
4 people - $449/each
5 people - $359/each
6 people - $300/each