The Park Shuttle Bus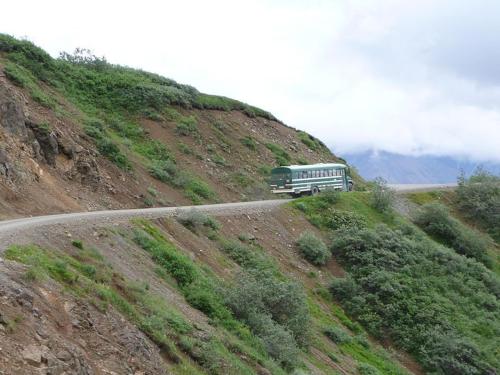 Park Service Shuttle Bus provides an informal and inexpensive way to tour the park. They have 6, 8, 11, & 12 hour shuttle options. This is a great option for the independent traveler and those with backcountry hiking experience that want to get their "boots on the ground". You must book directly at
www.nps.gov/dena
.
You have 6, 8, 11, or 12 hr. trip options.
This is a great option for those that want a shorter trip, don't want the expense of a narrated tour.
If you want to go to Wonder Lake or Kantishna - 11-12 hrs. We recommend the fully narrated Kantishna Wilderness Trails Tour by motor coach; it may be a better option for this long trip.
This is not a narrated tour
This trip is on a school bus with bench seating, if you have back concerns, there are better options.
NO lunch or food service available inside the park, NO FEAR, Creekside is here! We do light or hearty lunches TO-GO, pick up at 6am or the night before, most rooms/cabins have mini refrigerators. Order your park lunch.
Book directly at www.nps.gov/dena
Make reservations early- trips must be prepaid.