Denali Sightseeing Safari- MONSTER Truck Tour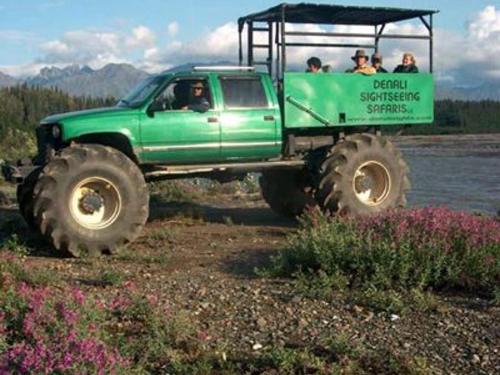 Denali Sightseeing Safaris LLC (DSS) was created with the idea of taking people into the backcountry of Denali National Park, away from crowds, buses, and dusty roads. We want to give you your own piece of Denali National Park for a day. You'll see wildlife, spectacular scenery, and an array of alpine flowers and have fun, as our guides are entertaining and love their jobs. Also riding in our oversize big tired tour trucks is an adventure in its self.
Rates: $180.00 Adults-$100.00 Child (12 and under)
Time: 9am, Duration: 6-7.5 hrs.
Dates: June 15-September 19
Denali National Park consists of over 6 million acres. The park service only allows motorized vehicles on two roads in the entire park: the road to Wonder Lake, and the State Right of Way that DSS uses. With close to 350 thousand people visiting Denali National Park in the 120 day season, it can get a little congested on the "Park Road". Although this can be a good day trip for some we wanted to offer something different. Denali Sightseeing Safaris is the first and only company offering tours in this part of the park.
The guides of DSS, have lived, explored, and guided in Alaska and the Park area for 25 years. With our knowledge of the Park area, we knew it was feasible to get people over the river and up the mountain trail into Denali National Park and over to the historic gold mine and surrounding mountains.
Our biggest obstacle was the river, sometimes running low and other times running high. We wanted the ability to cross at any time all summer.
Our customized truck solved the problem. Weighing in at 9 to12 thousand pounds, with 64 inch tires, and an incredibly low gear ratio, the river is no longer a problem. A very comfortable ride is provided by 8 pounds of air in the tires, perfectly matched springs and shocks, along with quality seats.
The old mining trail is in very good condition with few bumps or obstacles. We will not be going off trail tearing up vegetation, jumping cars, or knocking down trees. On occasions for fun or to navigate an unimproved trail and for crossing the rivers we will use the 4x4 capabilities of the truck. Our tour is unhurried and scenic and will be enjoyed by young and old alike. Our trip starts at the historic Colorado Bull River Road with a gated entrance. You will sense the remoteness of this vast country as we cross two glacial rivers, then proceed up the Chulitna river bed. After traveling up the river, its all up hill from there as we go up into the mountains above timberline to alpine tundra. The alpine tundra is a must see for anyone visiting Alaska its sponge like feel and beauty will intrigue all.
Our 6 to 7 hour 30 mile round trip tour includes, a tour of a historic gold mine, playing in the snow, wildlife viewing, nature walks, gold panning for the kids upon request, and incredible views of one of the most beautiful places in the world. We can custom tailor your trip to your personal taste; more hiking or gold panning, or even taking the truck further up into the mountains.
Some other features of our tour are; learning about the history of the area and the early settlers, seeing spawning King Salmon ( June 20th - July 20th), tour of a small mining museum, a visit to an early settlers cabin (built in 1913), and migrating Caribou. There is also very good rock hounding in our area as a fault line runs through the mountains. This has left an assortment of rocks, fossils and crystals from different geologic periods-Cretaceous, Jurassic and Triassic.
When all is said and done, you can go home to your friends and family and tell them that you did it Alaska Style..