Helicopter Tours
Exhilarating narrated tours of Denali National Park-Great views abound!
Tundra Express with Landing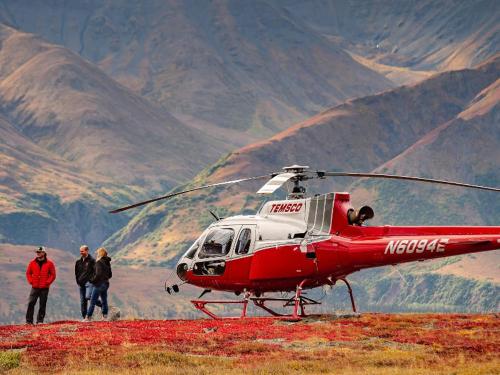 Don't just fly over the mountains...get out IN them!. Enjoy this short helicopter ride through the peaks and valley that make up the Alaska Range. Explore the hills just outside of Denali National Park. Look down below for wildlife, or keep you eyes on the horizon for a chance at viewing Denali, or her impressive sister Mt. Deborah. After a gentle landing, step out into the magical landscape. Sink your feet in the tundra, snap flurry of photos or just breath in that crisp mountain air.
Rates:
$249 per person
Times:
10:15am, 12:05pm, & 4:25pm
Duration:
1hr 50min hours / Total Flight 35 min
Glacier "Landing" Helicopter Expedition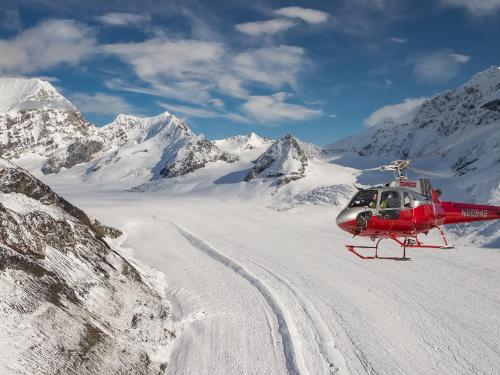 Walk upon an ancient glacier in the world famous Alaska Range! Grab your camera and prepare to be awed. Lift off in our cutting-edge A-Star helicopter to a breathtaking, birds-eye view of the Alaskan wilderness. En-route to the massive Yanert Icefield and surrounding glaciers, your pilot will introduce you to the mountainous terrain and stunning vistas. Glaciers have carved this rugged backcountry for millions of years and the magnificent towering peaks are the work of millions of years of tectonic rumblings. Discover the forces of nature from a new perspective.
Your adventure continues after a gentle landing on the glacier. Under your pilot's expert guidance, you'll get a chance to try out the glacier walking boots we provide and inspect the massive, frozen landscape. Explore icefalls and massive crevasses. Experience the otherworldly blue of glacial ice pools – up close and personal.
Experience the magic of these "rivers of ice" as you observe glacial streams and ice pools. Back on board, the significant views continue as you fly off toward Mt. Deborah, which stands at an impressive 12,339 feet. The Alaska Range is home to bears, moose, and Dall Sheep. So be sure to keep a sharp eye out for them throughout this once in a lifetime tour.
Rate
: $536.00 per person
Times
: 7:45am, 9am, 12:45am, 3:10pm, 5:30pm, 6:45pm
Duration
: 70 minutes (2h 20 min total tour time)
Heli-Hiking Adventure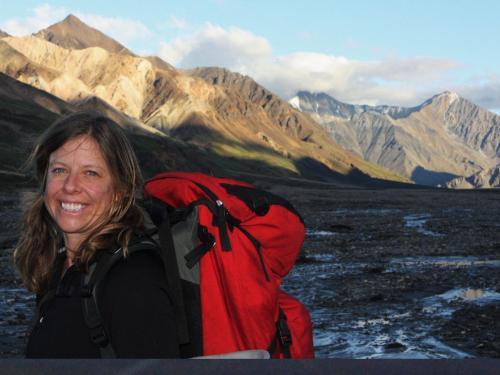 Trek through the wild Alaskan backcountry with an experienced local naturalist at your side. In this tour, you'll get to explore remote areas that are normally a full day's hike away. Lift off in a modern A-Star helicopter and get ready for your breathtaking birds-eye view of the Alaskan wilderness. An exhilarating 15-minute flight will bring you to our hiking area located just beyond the boundaries of Denali National Park. Once there, your friendly guide will lead you on an educational soft-adventure hike above the tree line. You'll learn how to track animals, interpret the flora and fauna, and if you're lucky – catch a glimpse of some of the spectacular local wildlife in its natural habitat. Your hike will present you with unforgettable views of the rolling hills, tundra ridgelines, and spectacular vistas of Alaska. You'll have a chance to relax on a hillside overlooking the valley and enjoy a small snack. Limited to small groups of no more than 12, this truly unique tour will leave you with a new appreciation for Alaska.
Time:
15min flight time / Hiking Time: 3.5 hour
Enjoy a customized tour based upon the group's interest and ability
Helicopter pickup & drop off. You'll go beyond the usual well-trodden hiking trails
Small group size: maximum of 12
Guided experience with a local naturalist who is trained in wilderness safety
Get expert introduction to the wildlife and plant life of the Denali area
Trail routes are tailored to individual fitness levels on uneven terrain.
Gear Provided: Small snack, bottled water
Rates:
$599 per person
Times:
10:55am & 2pm
Duration:
5 hours / Total Flight