Riverboat Discovery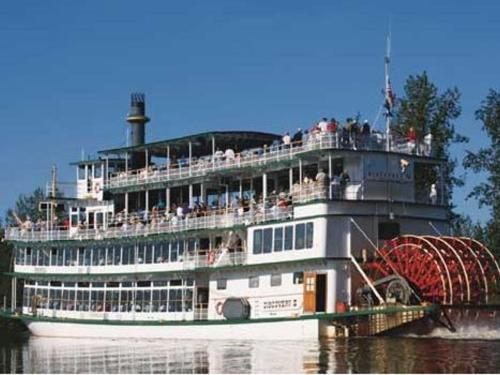 Voted the Best Boat Tour in North America!
Your three-hour tour will take you into the heart of Alaska and a family who has made the rivers of Alaska their way of life for five generations. There is much to see, do and learn on this action packed trip.
Chena Indian Village Walking Tour-Be immersed in frontier living first hand with a guided walking tour of an Athabascan Indian village. You'll see an Athabascan Indian village with cabins made of spruce logs, a cache used for storing supplies, a primitive spruce bark hut and fur pelts. Our guides will explain how the wolf, fox, martin and beaver were used to provide food and protection in the harsh Arctic climate. They will also share how the Athabascans skillfully survived for over 10,000 years and how they adapted to village life and Western culture in the past century.
Bush Pilot Demonstration-See an Alaskan bush pilot takeoff and land right next to the boat! Our pilot will share his stories of village life and explain the vital role planes play in remote Alaska.
Susan Butcher Kennels-Next you'll visit the home and kennels of the late four-time Iditarod champion Susan Butcher. Learn firsthand about kennel life and the challenges that go into making a champion dogsled team. Dave Monson, Susan's husband, or a senior handler at Trailbreaker Kennels share stories of life on the trails as puppies play in anticipation of joining the team. Keep your cameras ready; you will not want to miss the dog mushing demonstration!
Alaska @ 40 Below Experience-Winter in Fairbanks, where it often drops to 40 degrees below zero or more, can be downright brutal. With "Alaska at 40 Below", you'll step into our specially designed subzero chamber where we keep it a brisk, you guessed it, 40 degrees below zero. That's a mid-winter day in the upper Alaskan interior. Can you take the challenge?
Discovery Dining Hall-Enjoy lunch and a special presentation from Iditarod champion Lance Mackey. Included in lunch is a hearty miner's stew (beef stew with vegetables), Italian style pasta salad, biscuits and a blueberry crumb cake. We also serve potato leek soup which is a gluten-free/vegetarian option. We can accommodate every dietary need. Iced tea and coffee are complimentary; beer, wine and soda are available for purchase. Your meal is all you can eat and will be served family style; each component of the meal will be brought to your table and guests may serve themselves.
Rates: $69.95 Adults / $42.95 (3-12 yrs old) Infants are free
Times: 9:00am & 2:00pm Duration: 3 hours
Reserve your space early, pay at hotel check in. Cancel 72+ hrs. prior to avoid $25 cancellation fee.

The Riverboat Discovery and Gold Dredge 8 tours are designed so you can do both tours in one day. However, please note that these tours are not at the same location.