With reduced traffic into Denali National Park this summer, the Park Service has provided opportunities for local tour operators to take guests on the Park Road. These new tour options will only be operating in the Summer 2020 season, and are truly a "once in a lifetime" opportunity!
Explore the Park Road with Traverse Alaska!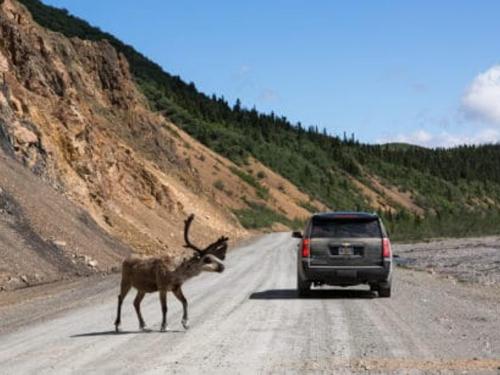 Special for 2020 summer only
, visitors are able get behind the wheel and drive 66-miles of the Denali Park Road. Individual parties (you + your family and friends) can explore Denali National Park in the comfort of a new, Traverse Alaska Suburban. Leading your trip in a separate vehicle, is one of our driver guides.
For visitors interested in a 2-day Denali experience, we recommend booking our Denali Park Road + Hiking Combo. This trip offers the best of both worlds, the scenic Park Road experience and a full day of hiking catered to the interests and abilities of your group.
All our driver guides are professional CDL drivers and local Denali residents who have been maneuvering the Park Road for many years. In addition to focusing on park road safety, our guides will provide Denali National Park expertise and highlight wildlife habitat via two-way radios throughout the trip. Avoid the crowds and buses, and experience a private Denali Park Road adventure like no other.
Trips begin near the entrance area of the park and travel to Eielson Visitor Center (mile 66 on the Denali Park Road) and return via the same route. Guests end their day at our starting location. Trips depart daily, total trip length is 8-9 hours.
Denali Park Road is a 92-mile gravel road (the first 15 miles are paved) extending from the Denali National Park's eastern boundary and entrance to Kantishna, the end of the road. Traditionally access to private vehicles ends at mile 15 with transportation deeper into the park only available in a shuttle bus. The scenic Park Road has a reputation for gorgeous mountain landscapes and being one of the best places in the area to spot Alaska wildlife including the Denali big five: moose, caribou, grizzly bear, wolf and dall sheep.
Prices:
$895 per vehicle, max 2 vehicles per trip.
Price does not include $15 per person Denali National Park Visitor's Pass
Guided Drive— Denali Park Road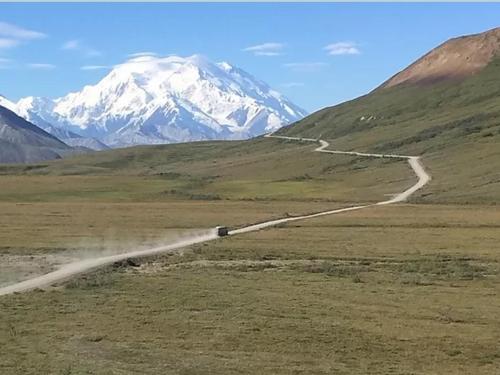 Drive yourself into Denali National Park with a naturalist guide. Restricted in the past to bus traffic only, the Denali National Park road offers superb scenery and unmatched wildlife viewing.
Enjoy the safety and privacy of our sanitized vehicle (10 passenger van) and the attention and narration of a professional Denali Naturalist in a pilot car by radio. Our guides have decades of experience and plenty of information to share about the history, geology & wildlife of spectacular Denali National Park along the way.
This tour will operate up to 8 hours, once daily with a flexible morning or afternoon departure time. As a small group of vehicles; minimum of one pilot vehicle and up to two following vehicles. This not a hiking tour and you will only be able to exit the vehicle at rest stops & Eielson Visitor Center.
Prices:
$210 per Adult
$190 per Child (16 & Under)
There is a $550 per vehicle minimum
Denali National Park Jeep Tour— 2020 Only!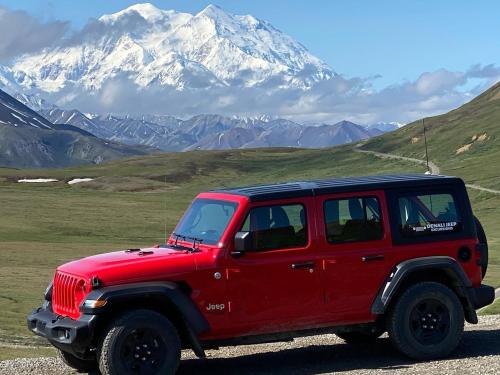 Only for 2020

, Denali Jeep has the opportunity to offer a semi-private, guided Jeep tour into Denali National Park on the Park Road. This tour will depart once a day with only two guest Jeeps. With a single family/party to each Jeep, you can enjoy peace of mind in these times of distancing. Experience Denali National Park from the comfort of your own new, 4-door Jeep Wrangler!
One of the most coveted views of Denali is at Eielson Visitors Center, Mile 66 on the Park Road. Along our journey there, we'll keep our eyes peeled for wildlife using provided binoculars, hoping to capture the Big 5 on camera! Every turn and twist of the Park Road reveals another breathtaking view and we will stop to take in the beauty. Denali can be visible throughout our excursion.
It is easy to keep in touch with two-way CB radios in every Jeep for narration and communication between Guides and Guests. If needed, there are several restroom stops along the way as well as quick stops at majestic viewpoints to stretch your legs and snap a photo. Enjoy light snacks and bottled water or bring a bag lunch. Coolers are provided in each Jeep.
This exclusive tour will depart at 7:45 am, July 1 to September 17, 2020. Plan to be with us for about 8 hours of adventure in Denali National Park! Make sure to wear comfortable clothing and layers appropriate for the weather. Closed-toe shoes or hiking boots are recommended.
Prices:
Private Jeep for 1-2 People: $499
Private Jeep for 3-5 People: $699
Non-national Park Pass holders must pay an entrance fee of $15 per person.