JOBS - Creekside-Lodging & Café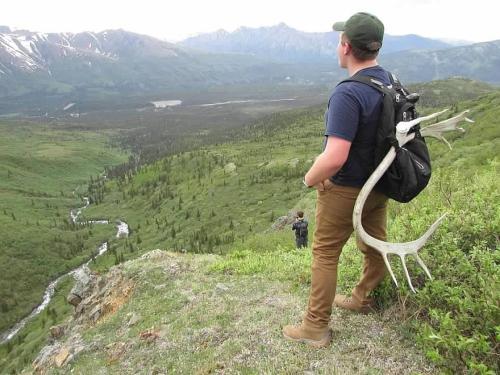 "Where Guests Become Friends" A philosophy we live by. We treat each person as we ourselves would want to be treated, with respect, kindness, consideration and by doing the little things that matter, but are not required. We are looking for people that are positive, have a good work ethic and are enthusiastic about life while sharing their experience of Denali with others.
Front Desk Manager-Filled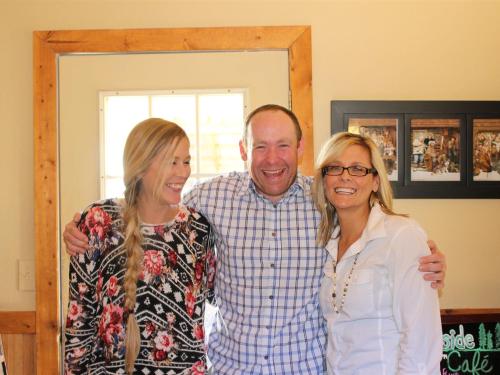 Must have hotel and management experience.Year round employment for the right person looking to grow with our exciting company. Looking for someone that truly enjoys serving others, is a problem solver, and that can lead and direct. Someone who will sincerely embody our motto that Creekside is a place "Where Guests Become Friends!". Responsible for all aspects of the front desk, room sales, tour sales, management, proficiency in POS and PMS, front line communication with vendors, guests, the front desk crew, Housekeeping manager and works closely with the owners. Pay: DOE + season end bonus
Front Desk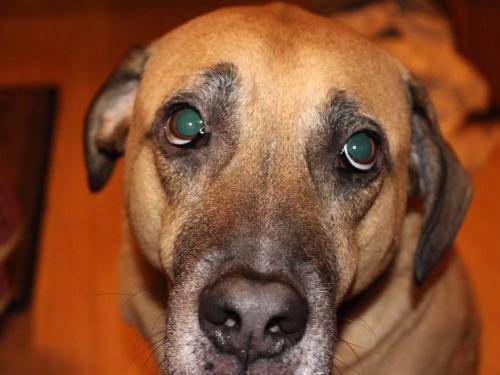 You will be the FACE and first impression of Creekside. You must have a heart for hospitality, truly enjoy serving others and like people. We treat our guest/friends special, from how they are greeted, addressing any concerns or questions and help make their with us as amazing as their surroundings.
Duties include checking in guests, selling tours, communicating with housekeeping, helping the cafe with wait-lists and more. Responsible for all aspects of front line communication and interaction with our guests. Added bonus, Duke our old Lodge dog, will be assisting with greeting all our customers :)
Pay: $15-$17 hr + contract bonus up to $1/hr.
Housekeeping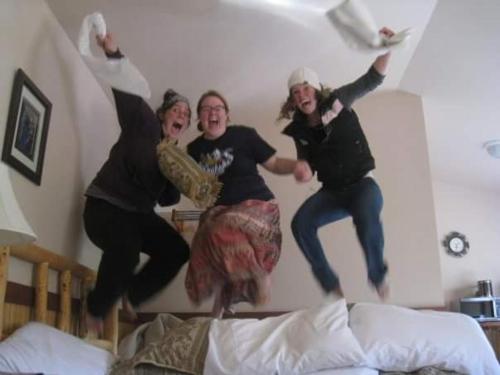 Every Night OFF!! You must like cleaning and have an eye for detail. It's a fast-paced work environment and a positive attitude, physical stamina, and the ability to work as a team.
Pay: $10-14/hr + TIPS + season end bonus of up to 1.00/hr. An extra bonus is losing 20#s without trying ;)
Housekeeping Manager -FILLED
Direct and motivate while working alongside your crew (you are a housekeeper too!), and an eye for detail. You need to prioritze schedules to meet deadlines. It will be your responsibility to ensure the Housekeeping guidelines are being adhered to or exceeded. Postivie attitude, physical stamina, and the ability to work cooperatively are necessary. Our managers lead by example. You will be the first one on and the last to leave. You will also work with the front desk on a daily basis-cabin walk-thru to ensure guest satisfaction. Experience Required. Pay: DOE.
Creekside Cafe - JOBS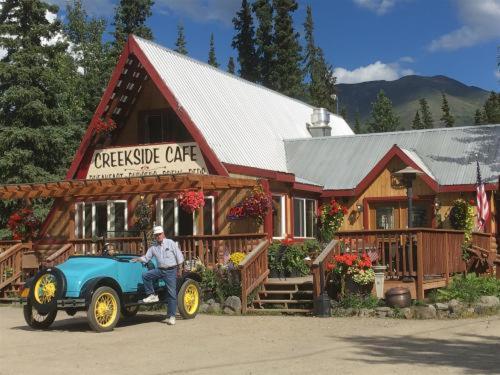 Our restaurant mission at the café is simple… We care about every guest, and every plate. From using the freshest local ingredients, carefully handled and crafted, and presented with pride to our guests. We will not serve anything that we wouldn't serve our grandma. The Creekside Café is the heart of our business. Its where both locals and guests gather to enjoy quality homecooked food with friendly attentive service. Every single position is truly essential to the flow of the operation and working together as a team not only makes all our jobs easier, but more fun... and profitable :)
Kitchen Manager-Filled
Preps all kitchen items as needed. Must be CLEAN and ORGANIZED in the kitchen. Responsible for intake of all food orders and processing of it. Must enjoy working with others and like being in the kitchen. Manages the dishwashers directly and works with the sous chef for overall management of back of the house.
Pay: DOE + tips + end of season bonus up to $1.00/hr.
Sous Chef-FILLED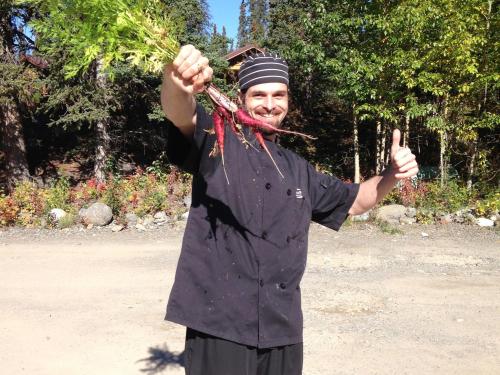 Right Hand Man (or woman) that leads from the front...and knows that a positive attitude sets the tone. Responsible for training, overseeing and assisting the dinner cooks. Must be able to execute the menu and recipes to perfection. Responsible for Lunch/Dinner Prep, training, overseeing and assisting dinner line cooks, daily soup, overseeing specials and special events and working closely with owner and kitchen manager. Private housing available. Pay $DOE/wk + tips + season end bonus of up to $1.00/hr.
Line Cook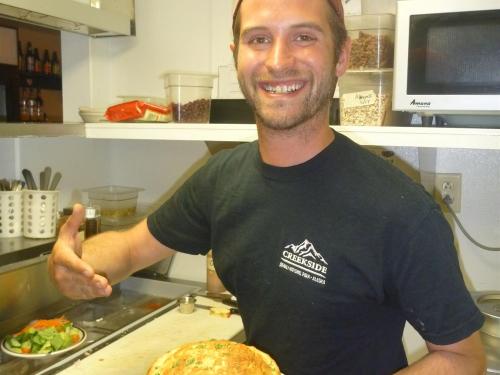 If you have a passion for cooking and making people's happy, WE WANT YOU! Everything tastes better when made with love. All cooks must be skilled in all aspects of the line including but not limited to sauté, fry, grill, steaks, pantry etc. Breakfast and dinner shifts available. Required: Two years of cooking experience.
Pay $14-17.00/hr DOE + tips + season end bonus up to $1/hr.
Prep Cook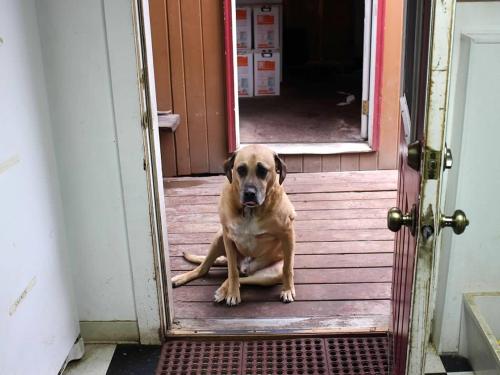 Supports the kitchen and cooks will all aspects of prep. Everything from chopping lettuce to making chili and slicing our house smoked turkey for our lunches. Looking for folks that want to advance their cooking experience and knowledge and perhaps eventually aspire to be a chef. Duke our lodge dog will oversee all operations from the back door, and take care of any reindeer sausage scraps :) Pay: 12-14.00/hr DOE + tips + 1.00/her season end bonus.
Dishwasher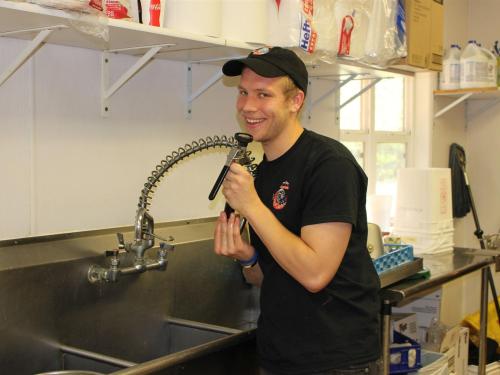 You are the BACKBONE of the kitchen, and the restaurant. Nothing moves forward without you :) And we will treat and respect you like the important person you deserve. Must have excellent cleaning/sanitation standards, able to bus tables with a smile, and assist in prep when needed. Physical stamina, positive attitude and the ability to work well with your team are required.
Pay: $12.00-14.00 + tips + end of season contract bonus up to $1/hr.
Baking Manager / Pastry Chef
Looking for a highly motivated individual excited and driven to lead, manage and grow our baking department, ideally long term-but not to the exclusion of.
Creativity a must and a minimum of two years experience required. Must be a professional, proficient in all aspects of baking, a solid base knowledge of breads and cake decorating. In charge of production, overall flow, time management, FIFO, ordering, organization and presentation of bake case, supervise/train bake staff all the while producing wonderful tasty things that will be showcased in our bakery case which is a must stop for many people in Denali and Alaskans! Midnight shift. Private housing available.
Pay: 800.00/wk + tips + season end bonus of up to 1.00/hr
Baker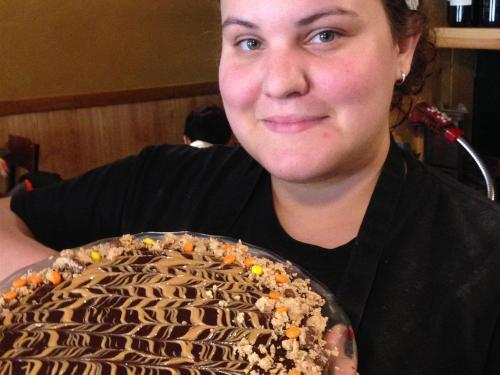 Responsible for baking bread and filling our dessert case with sweet treats. Must have baking experience, be an early riser (midnight shift) and have excellent time management, multi tasking, organizational and cleaning skills. Pay: $14-16/hr + season end contract bonus up to $ 1/hr . Midnight shift/Private housing available.
Breakfast Server Lead
A working breakfast server that manages the morning flow and other breakfast servers and barista. Works closely with the PM Service Manager to help the cafe run smoothly. Must be professional, have a outgoing, positive personality and know that all good managers lead from the front. Some management experience required. Pay: 12.00/hr + tips. Private housing available.
Server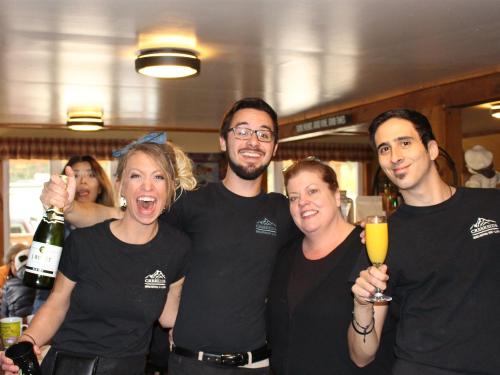 Servers must be professional, understand the difference between hospitality and service, have a great attitude and work ethic, and be good ambassadors of "Creekside".
We believe that servers should take pride in being HOSPITALITY professionals and providing the highest quality experience for our guests starting from their very first interaction.
As professionals, we're genuinely concerned with making guests feel significant through our actions and behaviors and will have the integrity to relentlessly live the beliefs and values that make this possible. Server candidates should have a minimum of two years experience command a high level of knowledge regarding food and beverage. This includes strong salesmanship abilities and extensive knowledge of menu ingredients, espresso, beer and wine. Candidates must also possess a strong will to learn and develop throughout the duration of their employment at Creekside. Candidates with cicerone, sommelier, WSET, or other enhanced credentials will be given priority. Cafe Hours: 5am-10pm. Pay: $10/hr ( 3% tip out) + tips
Service Manager-FILLED
Working server that is responsible for overseeing the serving staff and being in charge of the front of the house. Including training, working with the cooks on specials, dealing directly with guests and concerns, and managing beer and wine list. Salary DOE + tips + contract completion bonus of up to 1.00/hr
Barista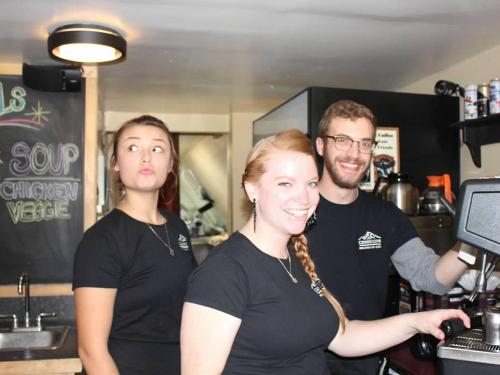 In charge of our small but busy coffee station. Makes espresso drinks, assists breakfast servers with all coffee orders assembles lunches to go for our guests and maintains the take-out section of the lobby.
Must be an early riser, have a good attitude and pour a good shot :)
Pay: 12.00/hr + tips + season end bonus of 1.00/hr
To Apply