We've been featured for everything from our great community events, excellent dining and lodging and personal stories highlighting our staff's incredible accomplishments. Read more below about our unique and wonderful property!
Wine guy and beer guy go head-to-head in a Denali tasting
Read all about the first of many specialty dinners from our amazing restaurant staff. No surprises that our sommelier, Ryan Aguirre won despite a great showing from Alaskan Brewing. But with an incredible plated four course dinner, carefully selected wines and beers for each course; our guests agree there were no losers!
20 Spectacular Lodgings in America's National Parks
What an honor to be mentioned in Bob Vila's list of best lodges to visit in America's National Parks!
Chili cook-off rings in start of season in Denali
What started as a friendly bet has become an annual tradition here at Creekside that friends, family and locals all look forward to this growing party to start off the season. 2019 had a record breaking 27 entries for the judges! We're proud that our own cooks beat out the competition and took home top prize in the blind tasting. If you're not in Denali in early May like us locals stop by in the season to taste our "Award Winning" Chili with a side of tasty cornbread during the summer season at the Creekside Cafe.
Top 11 Restaurants In Alaska
We're honored to be featured as one of the best restaurants in Alaska, as ranked by Westmark Hotels. If you're travelling to visit us from Anchorage stop by some of our other favorites listed in the top 11!
Hiking Through Denali National Park | Memorial Day Weekend| The Daily Deals
Get a great idea of what it's like to stay with us. This Daily Deals video blog gives you a first person perspective of a couple's 2019 stay in the Creekside Cabin, our most popular accommodation type!
Book yours today
!
20 Years of Creekside!
2016 was our 20th season in operation. Check out Holly and Tracey's story of friendship, joy and hard work over the past 20 years and what they think has contributed to the success of Creekside.
The Wine Guy of Denali!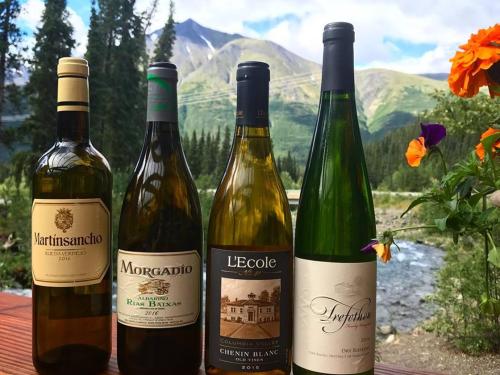 Our restaurant manager, Ryan Aguirre attained Certified Sommelier status in 2018. He's currently studying his Level 3. Our wine list shows; we have one of the only sommeliers in all of Alaska. Join him for a wine class in the pavilion or just pick his brain table side for what will pair best with your meal.